Linking up today with tatertotsandjello for one GIGANTIC link party! Go here if you want LOTS of inspiration.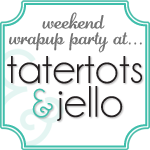 I have always loved making paper cakes because it combines two of my favorite things- cake and crafts.
I used my Sizzix
flower dies
, wool
felt
and something I received yesterday- a box of matboard from my friend. Connie edited my first book,
Matboard Magic
, and now works at
Crescent Cardboard
. Lucky for me, Connie was cleaning out her office and asked if I would like a box of matboard samples. Um- yeah! It arrived a couple of days ago...
Guess which one is my favorite? Yes, right there in front- burlap matboard! Wow! I really wanted to try it out right away so I decided to make a burlap cake topped with yummy felt flowers.
First I designed and created the cake, then started die cutting a bunch of flowers using my Sizzix flower dies. I had so much fun! I like to cut out each flower in several colors and then start mixing and matching shapes from different flowers and combining them so each one is unique. Once they were cut and stitched together (OK some might be glued), I started arranging the flowers on top of the cake. I also used the Borders and Hydrangeas die as borders on the cake. I really like how the nice bright colors pop on the burlap.
Die cutting wool felt is one of my favorite thing these days. The felt has a nice body and holds it shape but the best thing about it is NO FRAYING! It's also fun to add decorative stitches.
Finally, I arranged the flowers on top of the cake and adhered them with glue.
Ta-da! Turn off the lights and light the candles...